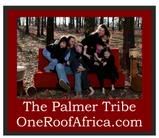 Got hooked on another cool
blog
the other day. Don't remember how I found it. Just clicking around from blog to blog. Love finding "people" that way.
It is
the story of a family
who was in the midst of adopting a little boy from Uganda. After many set backs, they decided to pack up and move to Uganda to be with their little one who wasn't able to come home yet. And they love Jesus.