I found 2 new delicious treats for the cold winter months.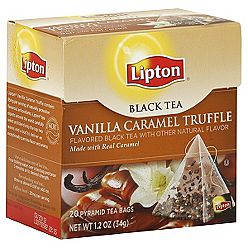 I don't know how they did it, but it really does taste like vanilla and caramel. An off the wall choice for me, but I really love it.
This is sinfully delicious. After reading the packaging (does anyone else do that constantly in the grocery store?) on multiple types, I realized how very little
chocolate
was in most "hot chocolates." Lots of dried milk and corn syrup. Gross. This one was actually chocolate and other ingredients I could pronounce. And it's beyond yummy. Maybe cause you make it with milk, but still. Oh, my deliciousness.
Random question: Do you sweeten your tea or do you like it straight? I like a hint of sweet. Agave is my favorite.